---
Via outdoor spaces on the camino we explore our inner spaces.
Word of a monk of Montserrat
during his pilgrims blessing to me

---
There are many approaches to divine wisdom, the Way of St. James, and here the Camino Catalán – in Catalan Cami St. Jaume – is one of them.
Although the large area around Barcelona is heavily urbanized, we find a beautiful wooded path over the coastal mountains with views of Barcelona and the Mediterranean sea and through the urban areas of St. Cugat and Terrazza to Olesa and Colbató at the foot of the Sacred Mount Montserrat.
We climb up to the Shrine of Catalonia and stay there 2 nights to use the sacred forces of this place for you. The mountain plateau above the monastery of Montserrat offers you a wide view, which should allow you to look at your life.
On the last walking day we will descend on the Camino Ignaciano to Manresa, where you will be able to finish your journey at the cave, where Ignatius of Loyola (founder of the Jesuits) came to a substantial life change.

By train we will return to Barcelona and do what your heart loves to do. Stroll the Ramblas, visit the market Boqueria, let time linger in a café in one of the beautiful plazas, go for a swim in Barceloneta. In the evening we will enjour your farewell celebration dinner.
7-day pilgrimage, 5 days walking
(if necessary plus arrival and departure),

Day 1 Arrival
Arrival at Barcelona

Spiritual walk through Barcelona with pilgrims blessing and sleepover



Day 2 – 4
60 km from Barcelona to Montserrat on the Camino Catalán with overnight stay in pensions and pilgrim albergues



Day 5
Stay in Montserrat

Spiritual arrival

Visit of the Sanctuary

Prayer walk on the rosary path to the Santa Cova (holy cave)


Ascent to the plateau

of Montserrat mountain range

Day 6
On the Camino Ignaciano (Ignatius of Loyola) to Manresa

Day 7
Return to Barcelona

Rejoice the old quarters
Go for a swim in the Mediterranean sea at Barceloneta
Celebration dinner
Pilgrimage assessment
Difficulty: Many ascents and descents, mid-high trekking boots and trekking poles recommended
What this tour is best for: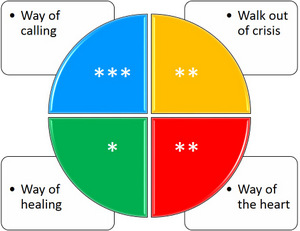 To learn more about assessment please read here.
My comprehensive offer for you:

Your individual "pilgrimage compass"

Your pilgrimage compass guides us on our coaching path and documents your past, your progress and your results for you. In order to get to your isues as soon as possible, please send me the first part of your completed pilgrimage compass before traveling. During the tour, we will expand this compass with your insights, your goals and your implementation planning.

Get ready for your pilgrimage call

Either personally or via Skype, we prepare your tour so that you feel ready, well informed and secure:

Travel planning

Your equipment and packing list

Your preparation

Your pilgrims credential
The accommodations of your tour are – if necessary / possible – individually booked by me. You just have to book your own flight into Barcelona and back home.
Six-month follow-up
In order for you to successfully implement our findings and your decisions, I remain at your side for another six months.
Per month a personal spiritual impulse for you.

Per month a personal or Skype consultation date.

Additional support for your questions per email 2 x per month
Bonus
As a bonus, I invite you to a farewell dinner on the last evening.

You will receive a photo-book of your travel with your most important insights.
You can, of course, take a city visit to Barcelona or a beach holiday, e.g. at Castelldefels or Sitges.
Get to know more about my coaching style here at "Coaching to go"